BOOK-TO-FILM – Rights Optioned by Actor-Director-Producer James Franco.
Actor-director-producer James Franco has optioned two books for film for his production company, Rabbit Bandini Productions: David Shields and Caleb Powell's I Think You're Totally Wrong: A Quarrel (forthcoming from Knopf in September 2014) and Shields's NYT bestseller The Thing About Life Is That One Day You'll Be Dead.

The film of the former, based on Shields and Powell's adaptation of their book, depicts a debate, nearly to the death, about life and art. Filming wrapped the last week of December 2013, directed by James Franco, who also appears as himself throughout the film; the film's co-stars are the book's co-authors, David Shields and Caleb Powell. The film is expected to premiere at the Sundance Film Festival in January 2015.

Totally Wrong enacts an impassioned and ongoing debate between the three actors: Powell always wanted to become an artist, but he overcommitted to life (he's a stay-at-home dad to three young girls), whereas Shields always wanted to become a human being, but he has overcommitted to art. To settle the debate once and for all, Franco, Shields, and Powell spend three days together in a cabin in the mountains, playing chess, hiking to a lake, and watching The Trip. They talk about everything they can think of in the name of exploring and debating their central question (life and/or art?): atrocity-porn, marriage, sex, baldness, evil, James Wood, happiness, sports-talk radio, death, facial scars, betrayal, alcohol, Judaism, bad book-titles.

The relationship—and the balance of power—between Franco, Shields and Powell is in constant flux, as three egos try to undermine one another; personalities overlap and collapse. Totally Wrong—both the book and the film—seeks to demolish once and for all the Q&A format, rendering any such future interviews laughably artificial; both also seek to confound, as much as possible, the divisions between "reality" and "fiction," between "life" and "art." There are no teachers or students, no interviewers or interviewees, no masters in the universe, only a chasm of uncertainty.

In his book The Thing About Life Is That One Day You'll Be Dead, author David Shields, who is mesmerized, and at times unnerved, by his ninety-seven-year-old father's nearly superhuman vitality and optimism, undertakes an investigation of the human physical condition. The result is exhilarating: both a personal meditation on mortality and an exploration of flesh-and-blood existence from crib to oblivion—an exploration that paradoxically prompts a renewed and profound appreciation of life.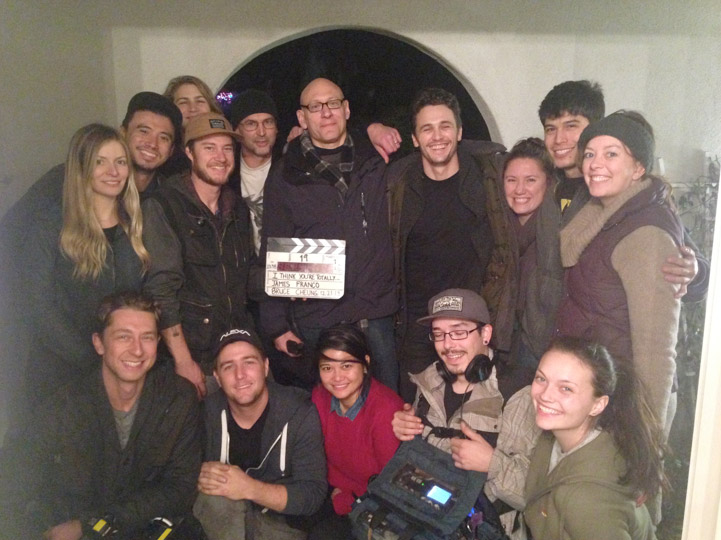 Photo of cast and crew upon finishing film adaptation of I Think You're Totally Wrong: A Quarrel (forthcoming from Knopf, September 2014), directed by James Franco, who also appears as himself throughout the movie; the film's co-stars are the book's co-authors, David Shields and Caleb Powell, who play themselves. I Think You're Totally Wrong is a nearly to-the-death debate about life and art, cocktails included. The film is expected to premiere at the Sundance Film Festival in January 2015. (Co-Authors David Shields [with plaid scarf] and Caleb Powell to immediate right of James Franco. Center-Back row) Photo Credit: Samantha Barrow.
Used by Permission of Rabbit Bandini Productions