"Mad Men at Downton Abbey" – Publishers Weekly
Leeds Castle has long been hailed as the loveliest castle in the world. Originally built in the twelfth century as a Norman stronghold, the castle once housed kings and queens but fell into disrepair for nearly a century until Anthony Russell's grandmother, Lady Baillie, purchased it in 1926 and restored the fortress to its former glory. It was in the castle's fairy tale setting, surrounded by a moat and acres of sprawling grounds, that Anthony spent his childhood in the 1950s.
Although it was a life of spectacular beauty and privilege, for a shy boy it was often lonely and fraught with the fear of breaking some unwritten rule of the "Castle Way."
As Anthony reveals in his extraordinary vivid and frank memoir – called "a little masterpiece" by author Bevis Hillier - such a childhood was perhaps not the best preparation for modern life beyond the castle walls. By the end of the 1960s, the polite reserve of the Castle Way was starting to yield to unconventional music, manners, and social freedom---simultaneously alluring and alarming to a young man who had grown up in splendid isolation in a world that would soon be gone.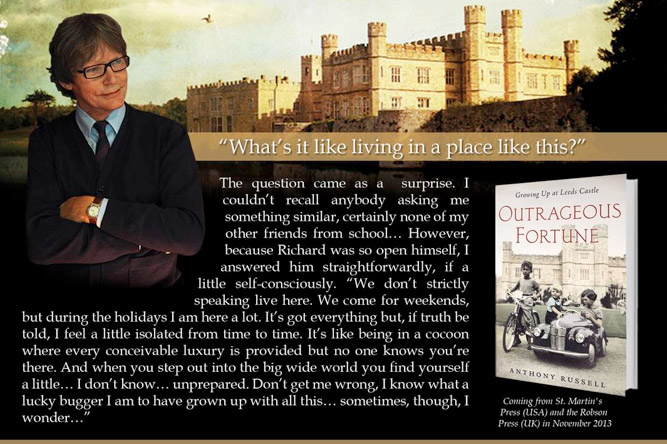 Anthony Russell was educated at Stowe School, England. For more than five hundred years his family has served kings and queens of England as ministers, privy counselors, generals, and prime minister. He was raised at Leeds Castle, Kent, where his childhood was centered on the feudal world of his very rich grandmother, Lady Baillie, with occasional excursions to the much less grand castle of his other grandmother, Lady Ampthill, in Ireland. A writer, musician, and composer, he currently divides his time between Los Angeles and France.
In its review, The New York Times, noted Outrageous Fortune is a …"well-observed memoir, in which he [Anthony Russell] reminisces about spending childhood weekends and holidays in Kent at Leeds Castle, the moat-­surrounded, 1,100-year-old 'former stronghold of Saxon kings' that his grandmother, Lady Baillie, purchased in 1926. An indomitable and severe matriarch, she oversaw both her staff of 50 and her social circle in a manner the author likens to that of the conquering Normans. Family members and guests sometimes complained about always being at Lady Baillie's beck and call. Meanwhile, her shy young grandson made repeated attempts to get her and her courtiers to engage him in conversation. Most of them, however, seemed to think of children merely as small people who can't spell Gstaad."
Read the entire review at The New York Times.
"Outrageously Entertaining…This is a memoir that is in turns humorous, poignant and bittersweet. It captures a way of life filled with hunting, seasonal migrations to warmer climes, exclusive boarding schools, Beatle concerts and high class hookers. It's a story about coming of age in a privileged environment that is sure to appeal to Anglophiles and other fans of 'Downton Abbey' ".
Read the entire review at The Examiner.com