The Burma Spring: Aung San Suu Kyi and the Struggle for the Soul of Burma
Rena Pedersen
Published 2015 Pegasus Books
The Burma Spring brings fresh details to light about one of the true heroines of our time – the charismatic Nobel Peace Prize winner Aung San Suu Kyi who is the most admired voice for freedom in the world today. She has been the inspiration for Burma's "spring" and her party is poised to win strong political power in the 2015 elections in her country (also known as Myanmar). That means she will not only be in the headlines throughout the next year, but for many years to come.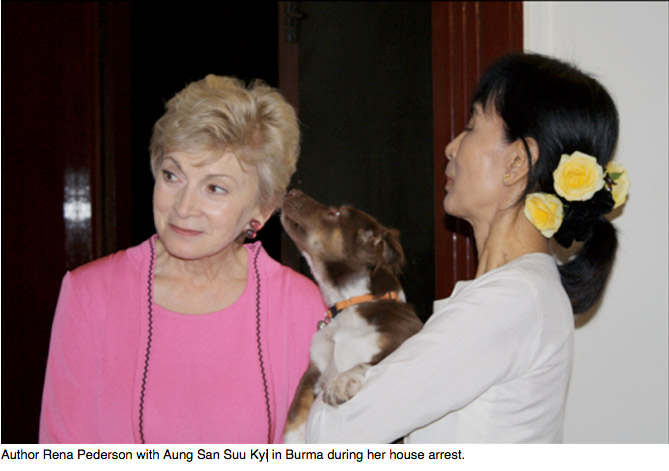 The Burma Spring by Rena Pederson updates the story of Suu Kyi's life since her release from more than 15 years of house arrest in Burma and provides information from exclusive interviews with Suu Kyi as well as previously undisclosed diplomatic cables from Wikileaks.
Pederson reveals new twists to this inspiring story: The extraordinary steps taken by First Lady Laura Bush to help Suu Kyi while she was under arrest; And why former Secretary of State Hillary Clinton injected new momentum into the "Burma Spring."

Author and journalist Rena Pederson is uniquely qualified to tell the next chapters in Aung San Suu Kyi's story and her role in the "Spring" awakening of Burma's people. Pederson is one of the few journalists to interview the Nobel Peace Prize winner in Burma while her home was barricaded by the military. Strategically, as a former State Department speechwriter, Pederson continues to gain access to high-level decision-makers.

Readers get a rare look at Suu Kyi's life-and-death struggle for freedom and democracy in this important part of the world and will be inspired by the courage of this real-life heroine who is admired world-wide and often referred to in the press along with Mahatma Gandhi, Nelson Mandela and Martin Luther King. Former First Lady Laura Bush will write the Foreword. The Burma Spring: Aung San Suu Kyi and the Struggle for the Soul of Burma is an exciting, important read.
Noted in the Press
"The Burma Spring captures Aung San Suu Kyi's courageous fight for democracy in Burma, including her nearly two decades of unlawful imprisonment under an oppressive and violent regime. Aung San Suu Kyi's strength and perseverance brought hope to so many Burmese who now see the possibility of reform, and her story will continue to inspire future generations around the world longing for freedom in the midst of tyranny and darkness." – Senator John McCain
"Daw Aung San Suu Kyi is one of the towering figures of our age: a tireless champion of democracy, freedom and reconciliation. Rena Pederson captures Suu Kyi as few others have, producing a vivid account of the life of this remarkable woman. The Burma Spring is a valuable resource for anyone interested in contemporary Burma." - Senator Mitch McConnell
"Impressively researched and compellingly written, Pederson has woven together the epic journey of Aung San Suu Kyi with the turbulent story of her country in a fascinating and inspiring way."
—Benedict Rogers, human rights activist and author of Burma: A Nation at the Crossroads

"Pederson evokes the quiet, stubborn dignity of this rather improbable political icon. She draws a deeply nuanced portrait of the enigmatic, inspiring leader." —Kirkus Reviews

"Journalist Pederson delivers a penetrating portrait of Aung San Suu Kyi, the 1991 Nobel Peace Prize winner and leader of the Burmese National League for Democracy party, in a thoughtful biography that reveals the 'moody, temperamental' side of its charismatic and visionary subject. " -- Publishers Weekly

"The riveting story of Suu Kyi's brutal imprisonment, deplorable maltreatment,
astonishing inner strength, and ultimate survival is told with a historian's appreciation for context and circumstance by journalist and former State Department speechwriter Pederson in a complex and sweeping history of Burma's centuries-old struggle to maintain a closed society, yet manifest its power on a global scale." ---Carol Haggas, Booklist starred review
"One of the more fascinating disclosures readers will learn about is the extent to which Laura Bush (who wrote the foreword to the book) kept Suu Kyi and Burma on the agenda in policy circles within the Bush Administration…readers seeking more than the occasional headline will find a compelling story deserving of greater international recognition. Recommended for readers of international affairs, world politics, and democracy movements." -- Library Journal
"The Burma Spring" is an instant must-read resource for all things Aung San Suu Kyi and Myanmar. In her new book, Journalist Rena Pederson offers the whole range of what we should know—from how to pronounce the Nobel laureate's name to why Suu Kyi's battle for democracy and freedom in Burma still isn't over.
We are there for a frightening massacre and for the pronouncements of the men who imprisoned Suu Kyi or now resist her party. "The Burma Spring" provides the national and global context for Suu Kyi's struggle--right up to 2015.
Through years of Suu Kyi's observations and actions, her long separation from her husband and sons, even the trademark flowers in her hair, Pederson has illuminated a human being." – Joann Byrd, Amazon Review
Suu Kyi's and Burma's stories are complex and nuanced; they are saturated with loss, determination, silence, voice and moral passion. And given the difficulty in accessing key source material - it is still an authoritarian, murky regime - telling those stories is also exceedingly complex…[Pederson's book] is an ambitious and necessary work, for it harvests the available materials and presents them, together, as a kind of illuminating dossier about a heroic woman and a nation walking, slowly, toward a freer land. – Earl Pike, Special to The Plain Dealer, Cleveland.com
Writing a biography of a living legend is never easy, especially when the living legend is legendarily inaccessible. Rena Pederson has managed to break through the difficulties to publish a thick, fascinating biography of Aung San Suu Kyi, a legend in the closed-off nation of Burma (sometimes called Myanmar), who became a legend worldwide because of winning the Nobel Peace Prize.
– Steve Weinberg, Dallas Morning News