Sensing the Rythm
Mandy Harvey with Mark Atteberry
(Forthcoming from Howard Books/Simon & Schuster)
"Mandy Harvey's journey is a reaffirmation of what I told reporters after I won my Academy Award, "Silence is the last thing the world will ever hear from me." Mandy will never let deafness silence her, and she has aptly proven that deaf people can do ANYTHING."
----Marlee Matlin, Academy Award® Winner for her role in Children of a Lesser God. She was nominated for Emmy Awards for her performances in Seinfeld, Picket Fences, The Practice, and Law & Order: SVU. Author of I'll Scream Later (Gallery.)
"Mandy Harvey represents, in the truest sense, a No Barriers life. Her story is a powerful testament to resilience in the face of seemingly insurmountable challenge. She has harnessed her challenges and transformed them into a stunningly beautiful gift to the world. Her discoveries and insights can become ours; and along with her, we'll be forever changed."
----Erik Weihenmayer, blind adventurer, author, and speaker. Author of No Barriers: A Blind Man's Journey to Kayak the Grand Canyon (Thomas Dunne Books.) and one of the most celebrated and accomplished athletes in the world. In 2001, he became the only blind person in history to climb Mount Everest.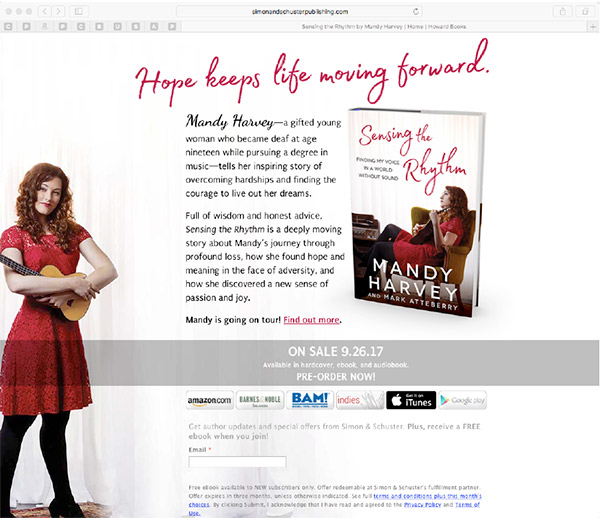 A memoir with a message, Sensing the Rhythm is a collection of heartfelt life lessons Mandy Harvey learned during her nightmarish journey from normalcy into deafness at the age of 18 – leading ultimately to a career as one of the world's most astonishing musical artists. Mandy sums up her thoughts and "notes" on what has happened to her and what she has learned--about herself and about the world around her.
Indeed young musician-jazz singer and motivational speaker, Mandy Harvey has found new ways to "hear" and sing. At this point in her remarkable career, Mandy has now recorded four albums, made numerous national television appearances, and performed at some of the country's most revered venues and tours with her three piece jazz group.
…The pretty young woman, who looks barely out of her teens, takes the stage at the local jazz hot spot and begins to sing. That's when the magic happens. From the first note, Mandy Harvey tames her audience into stunned appreciation as she glides pitch-perfect from breathy jazz standard to growling blues. She is never still, clapping and twirling, keeping time while the saxophonist, the bass player, the pianist lay down their solo improvisations. When it is her turn she jumps in seamlessly, never missing a beat or note. At show's end the audience is on its feet. Some know the secret. Harvey has not heard any of it — not the applause, not the talent of the musicians who shared the stage, not her own incredible voice. At 27, this rising star in the jazz world is completely deaf. ---Los Angeles Times, January 2015
When Mandy Harvey began her freshmen year at Colorado State University, she could see her life plan unfolding right on schedule. A gifted musician, she would secure her music degree and begin living the music that was bubbling within her. It was less than two months into her first semester that she noticed she was having trouble hearing her psychology professor. By the end of that school year, Mandy was deaf. Few people have seen their hopes and dreams crash so quickly, so thoroughly, and so unexpectedly through no fault of their own. Mandy's book Sensing the Rhythm reveals how Mandy's dream – she thought was hopelessly lost became greater than she ever imagined. To be sure, Mandy's life continues with scary moments but is also filled with a profusion of exulted achievements.
Agent's Note: Mandy's life notes are in no way clichéd, saccharin or maudlin, but honest, forthright, genuine and, I have to say, inspiring. Besides recounting the tribulations she faced, Mandy's words of motivation are inspirational for anyone who reads the book. [Note: Not limited to people with disabilities.] Mandy's book is part memories, part honest advice, and demonstrates sheer perseverance in the face of adversities. For example, Mandy is from a religious family she experienced hatred and ignorance from those very people in her life. She could have turned her head on this issue but chose to face it head on. The book has heart and Mandy talks about tough decisions that are rarely confronted by anyone in mainstream society. Such conflicts make for an interesting read.
In a short time, Mandy has built an audience with coverage by the likes of NBC Nightly News, Steve Harvey, LA Times, Canada AM (to name only a few) and she filmed a Burt's Bees commercial released in February with the theme- Love Your Nature - highlighting Mandy's song "Try." See also the links below to the CNN television piece about Mandy and another produced by Katie Couric. And if you want to treat yourself to some delicious musical moments, check her out on YouTube. I especially like Mandy's version of "Smile."
In 2011, Mandy won VSA's Top Young Soloist Award and lived a personal dream of performing at the Kennedy Center in DC. Mandy has become an ambassador for both No Barriers USA and Invisible Disabilities Association with a mission to encourage, inspire and assist others to break through their personal barriers.
Mandy Harvey Website: http://www.mandyharveymusic.com
Mandy---YouTube: https://www.youtube.com/watch?v=oFxu0QdwX_8
Mandy's FaceBook Page: https://www.facebook.com/pg/mandyharveymusic/photos/
And here's the link to the moving piece on Mandy by Katie Couric,
November 12, 2015:
https://www.yahoo.com/news/video/deaf-jazz-singer-mandy-harvey-150211265.html